MamaDos stands for the advanced dryfeed system for mums in the farrowing stable. With animal-specific feed quantities and - sensor-controlled feeding of the sows. The feed intake and milk yield of the sows can be optimised!
MamaDos - sow feeding system with new dispenser for even more floury feed.
Sow feeding system with new dispenser for even more floury feed. Capture MamaDos: MamaDos with new hopper for flexible use and quick installation will be gratefully welcomed by professional sow farmers.

MamaDos is a central dry feeding system that is controlled by the Topo feeding computer. The system makes it possible to adjust the amount of feed per sow and day and feed at several dosing intervals for each animal according to the feeding curve, or it is sensor-controlled by the sow's feed intake. It can improve feed intake. With the new 8 l volume dispenser, which was specially developed for MamaDos, it is possible to store a larger feed volume. The particularly steep and one-sided funnel successfully prevents bridging. The funnel can also be opened quickly and without tools by turning it slightly for cleaning. Outside water drips effectively prevent water from entering the reservoir. The main focus on product development of the new MamaDos hopper was a quick and easy assembly, allowing investment costs to be reduced to a minimum.
Interested? Please contact us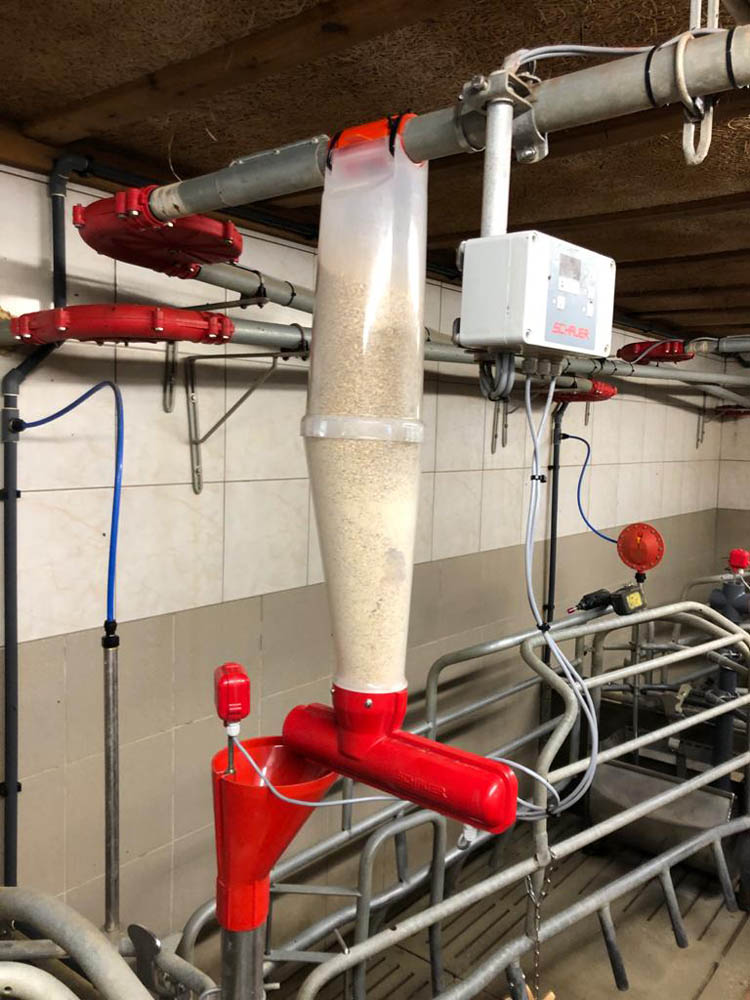 That's why retrofitting pays off:
High litter numbers and strong piglets demand increased milk production from the sow. It is difficult for the animals to absorb enough energy and food. MamaDos is the answer in dry feeding to increase the feed intake of lactating sows. This increases the milk yield and reduces the weight loss of the sow in the farrowing pen.

Our systems:
MamaDos SmartControl
MamaDos PRO Manual control of each box
MamaDos is a computer-controlled dry food dosing system that is controlled by a central Topo feeding computer for each individual animal. The feeding intervals are freely adjustable, with sensor controlled dosage. Each dosing device can be controlled individually with the new intuitive and user friendly SmartControl mobile app. MamaDos can also be retrofitted into existing stables on any existing dry feeding system with volume dispensers.


MAMADOS customer video: Interesting customer video from denmark about some experiences with our MAMADOS sow feeding!


Dryfeed Batch: Trockenfuetterung