Bedding and littering system - Strohmatic
Cattle farming with straw is en vogue. Rightly so! Because they all scatter straw dust-free, quickly and safely with Schauer Strohmatic. Easier work, animal welfare guaranteed and significant savings at the same time
Strohmatic - appropriate and automatic
Straw farming follows the desire for greater animal friendliness in cattle farming. But what about the work economy and management?
Complete dedusting for clean and healthy air in the barn - only with us!
Our highlight: "Bale in and go!" fully automatic sprinkling
Straw mill shreds reliably
The straw bales are processed automatically
Automatic straw distribution throughout the cattle shed
Quality of litter is improved
Spreading amount is adjustable
With Strohmatic, straw costs can be reduced by up to 50%. The littering works fully automatically and thus significantly relieves the work in the stable.
More about the Strohmatic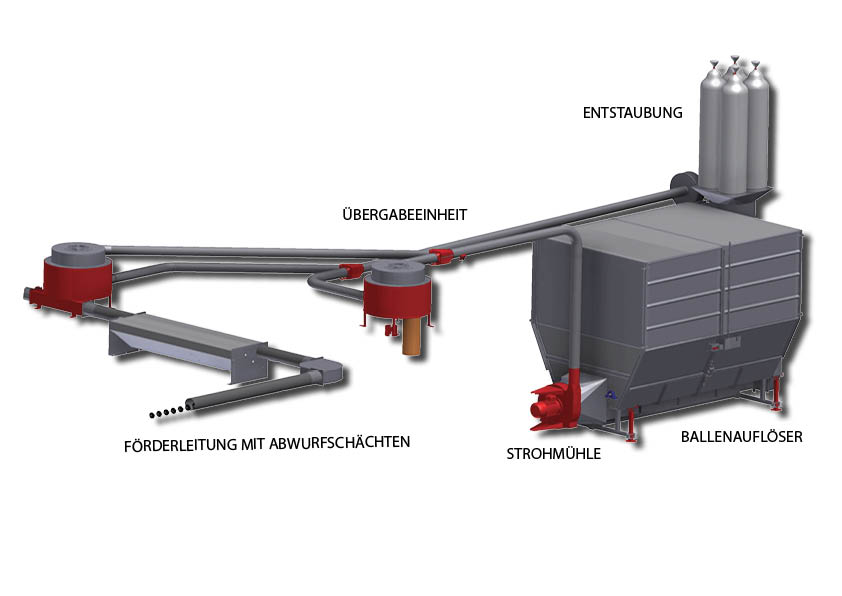 The Strohmatic bedding system
A novel system for shredding and decentralized distribution of litter brings a further enormous labour savings, especially for larger companies. A hopper with a ball disintegration and crushing mechanism allows the straw bale to be loosened. The bedding material is automatically dedusted after crushing by a suction cyclone. Thanks to the conveyor chain system, the straw is conveyed to where it is needed fully automatically and dust-free.