SPOTMIX Multiphase feeding
With Spotmix you feed exactly at the point required! That way your animals can optimally absorb: small portions several times a day, according to your recipes and under the best hygiene conditions. Spotmix is also recommended for animal welfare stables!
Spotmix 3 sets new standards in terms of modularity, scalability and flexibility. You will enjoy the high level of hygiene and a user friendly product design. Spotmix 3 has been redeveloped on the basis of Spotmix 1 and 2. Spotmix multiphase feeding has been used successfully a thousand fold for over 20 years in a wide variety of application areas.
Better accessibility to mixing and discharge containers
More components and small quantity dispensers due to new design of the base station
New small-quantity dispensers with optimized geometry for space-saving arrangement, optimized slip-off behaviour for cleaning in seconds
Added functionality through new software functions
Wear-optimized cable parts

Absolutely new: Spotmix SPEED the turbo-package
Up to 35% faster dispensing speed
Available for Spotmix1, 2 and 3
Advantages of Spotmix Multiphase Feeding?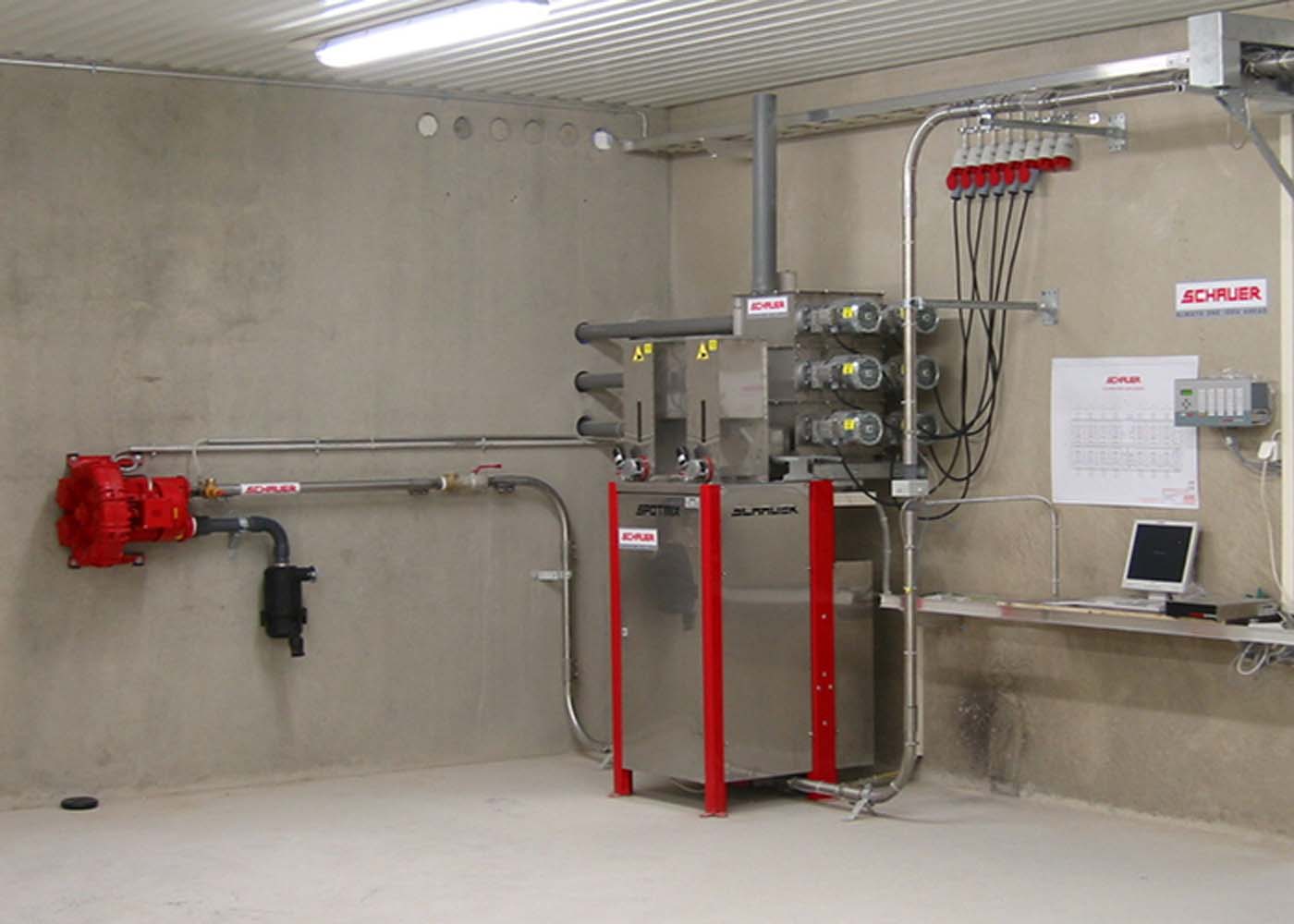 Spotmix multiphase feeding has been successfully used for more than 20 years with more than 120,000 feeders at more than 1,800 plants in 35 countries.
Multiphase feeding not only improves animal health; it also optimizes biological performance and saves feed costs. In addition, the environment is protected, as the nitrate and phosphate excretions are reduced by an average of 20%. Spotmix guarantees perfect hygiene conditions. The entire feeding system is completely empty and clean after each feeding.
Precise: Mixture as dry food
For each feeding place exactly the right portion and recipe is prepared.
Hygienic: transport as dry food
The precisely portioned recipe is transported in the flow to the Spotmix rotary distributor
Flexible: distribution as liquid or dry food
Optionally, water can be added to the rotary distributor.
Spotmix 3 portion mixers:
• Sophisticated component feeding for high dosing accuracy even with high number of components
• No residues or deposits in the transitions
• Automatic dosage (balance, time, impulse)
• Certified mixer
• Electric mixer flap
• Generous openings for cleaning and inspection
• Through bleed system
• Industrial grade rotary feeder
• Controlled water valves
• All drives can also be controlled via frequency converters for optimum adaptation to operation
Additional benefits
• One of the new software features makes it possible to change the recipe for each individual outlet according to the amount actually consumed immediately and not as usual after days.. The exact use of the given feed quantities per animal helps to reduce the costs of what is often very high-priced feed.
• The durability of the highly stressed bends in the delivery line has been improved many times over by using specially hardened materials.
Absolutely new: Spotmix 3 Speed
With the speed kit, time-optimized functional sequences and a different compressor technology, the dispensing speed can be increased by up to 35% compared to current systems.
Especially at times of day with an increased need to feed, Spotmix 3 Speed is able to meet the above average demand for food.