Babyfeed suckling pig feeding system for milk replacer and pre-starter feeding in the farrowing pen.
Babyfeed with automatic trough emptying
Babyfeed - suckling pig feeding with a new, optimized feeding trough for effective, automatic trough emptying
With the new Schauer Babyfeed suckling piglet feeding system, it is possible to feed milk replacers and pre-starters. The processing is automated. However, emptying the trough manually once a day is labour extensive and challenging to realize. The Baby suckling piglet feeding system can atomize this process no personnel involvement is required because of the newly designed feed trough. Among other things, the focus here was on good trough cleaning using the patented blow-out function. For this purpose, each feeding trough is blown out with short, successive blasts of compressed air, without soiling the farrowing pen reasonable. For even more effective cleaning, the trough can be filled automatically with little water before blowing it out so that residual feed is dampened and can thus be better removed.
Another focus of development was lower installation costs and faster and cheaper assembly. For this purpose, the new feeding station is made of durable, glass fibre reinforced plastic, which can be glued directly to the PVC pen profile. This system successfully prevents feed from entering behind the frame and increases hygienic conditions.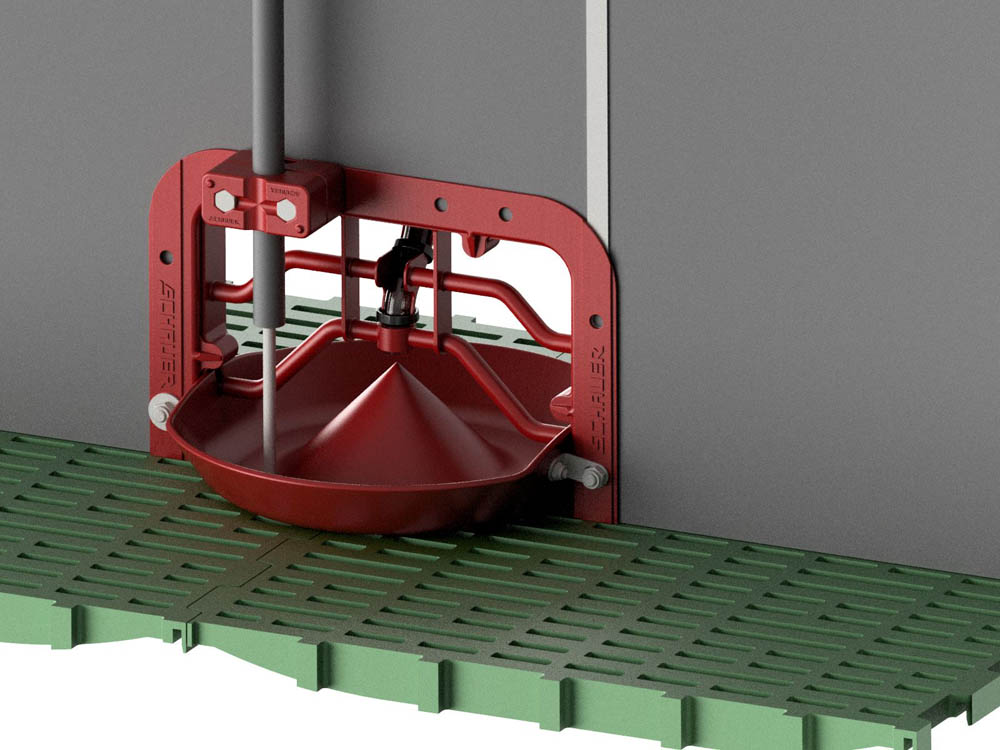 Additional feeding for piglets is not optional but a must!
In recent years, great progress has been made in the genetic performance potential of piglet production. Litter sizes of 14 to 18 live-born piglets are achieved at well-managed pig farms. The sows reach the limits of their lactation performance and lose too much weight in the farrowing pen.
Early feeding of the suckling piglets in the farrowing pen provides relief and at the same time represents the solution to achieve both:
Higher weaning weights of the piglets
Reduced the weight loss of the sows

Our solution:
Baby Feed can be used immediately
Baby Feed works with milk and PreMix
Baby Feed is a good learning aid for further feeding at the trough
Baby Feed strengthens the stronger piglets whilst the weaker ones get more milk from the mother
NEW Baby Feed trough cleans itself - automatic trough cleaning system